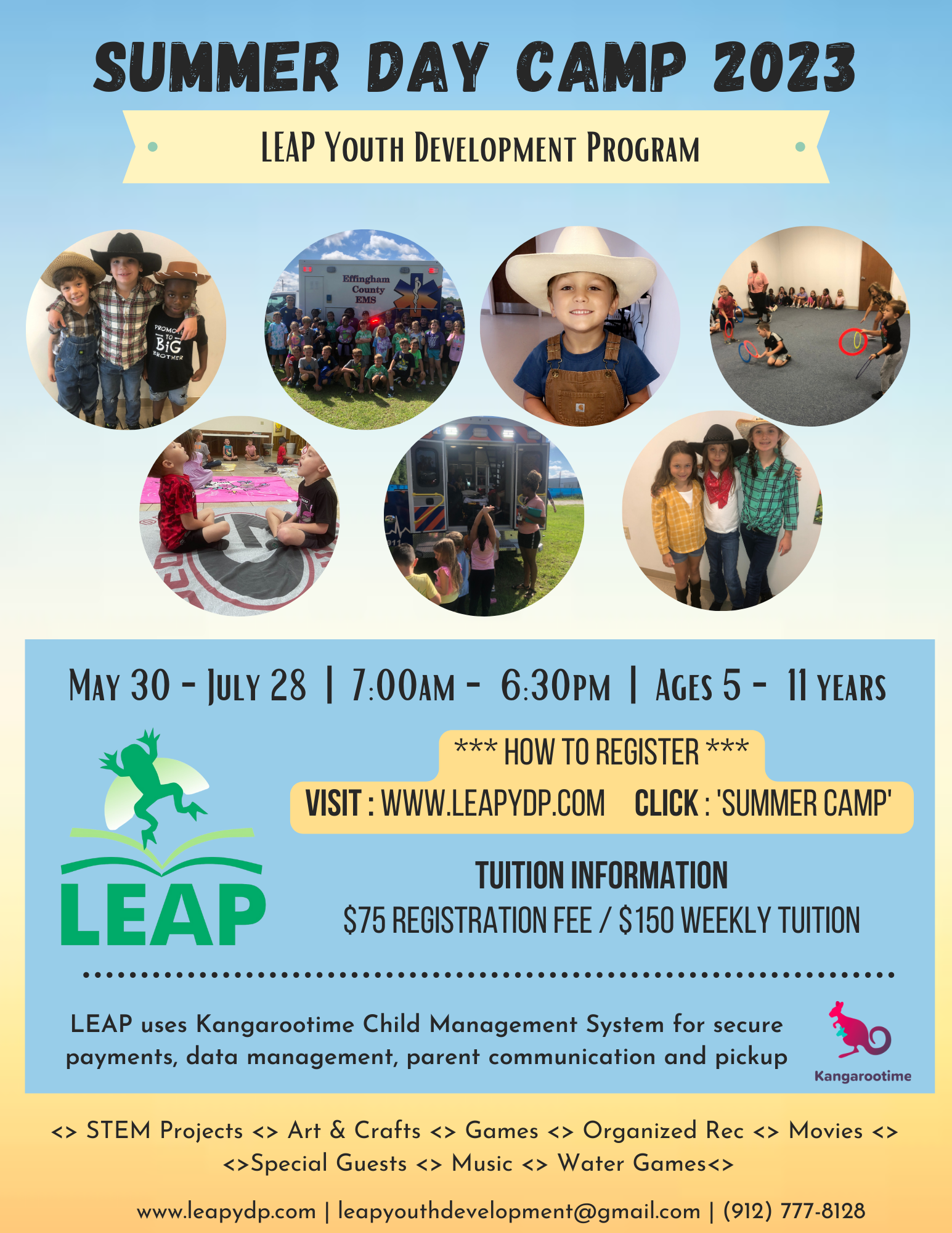 Week 1 : May 30 - June 2

Theme: Superheroes Assemble!
Safety Theme = Water & Sun Safety
Special Guest = Father David Rose - Juggler
Spirit Day = Superhero Day
Summer Bridge Math Focus


K-2 : Intro to Addition
3-5 : Intro to Angles

Summer Bridge Science Focus

K-2 : Oceans Lakes and Rivers
3-5 : Properties of Matter

Character Seed = Courage
Movie = Space Buddies



Week 2 : June 5 - 9

Theme = Goin' Green
Safety Theme = Fire Safety
Special Guest = Rincon Fire & The Fire Truck
Spirit Day = Tye Dye Day
Summer Bridge Math Focus


K-2 : Even and Odd Numbers
3-5 : Equivalent Fractions

Summer Bridge Science Focus

K-2 : Heating and Cooling
3-5 : Earth's Orbit and Rotation

Character Seed = Respect
Movie = The Lorax
Week 3 : June 12 - 16
Theme = Quantum LEAP : Time Travel through History
Safety Theme = Road & ATV Safety
Special Guest = Effingham Sheriff Office
Spirit Day = Tacky Tourist Day
Summer Bridge Math Focus


K-2 : Money Combination of Bills and Coins
3-5 : Intro to Multiplication

Summer Bridge Science Focus


K-2 : What is Engineering
3-5 : Weathering and Erosion

Character Seed = Integrity
Movie = Meet the Robinsons
Week 4 : June 19 - 23
Theme = Rumble in the Jungle: Rainforest Adventures
Safety Theme = Emergency & Health Safety
Special Guest = EMS & Paramedic
Special Guest = Meteorologist
Spirit Day = Crazy Hair & Socks Day
Summer Bridge Math Focus


K-2 : Comparing 3 Digit Numbers
3-5 : Convert Units of Measurement

Summer Bridge Science Focus


K-2 : The Five Senses
3-5 : Sun and Other Stars

Character Seed = Trustworthiness
Movie = Tarzan
Week 5 : June 26 - 30

Theme = Pirate Fever!
Safety Theme = Drugs & Alcohol Safety
Special Guest = Effingham K9 Unit
Spirit Day = Pirate Day
Summer Bridge Math Focus


K-2 : Intro to 2D Shapes
3-5 : Division Using an Area Model

Summer Bridge Science Focus


K-2 : Intro to Weather

3-5 : Collisions


Character Seed = Responsibility
Movie = Peter Pan
Week 6 : July 3 - 7

Theme = Let Freedom Ring: Celebrate Red, White & Blue!
Safety Theme = Bike Safety
Special Guest = Safety Speaker
Spirit Day = Red, White & Blue Day
Summer Bridge Math Focus

K-2 : Intro to Number Line
3-5 : Solve Problems with Decimals

Summer Bridge Science Focus

K-2 : Gravity Pulls Things Down
3-5 : Patterns of Motion

Character Seed = Citizenship
Movie = Cars


Week 7 : July 10 - 14
Theme = Shark Week
Safety Theme = Health Safety
Special Guest = Warnell Center
Spirit Day = Beach Day
Summer Bridge Math Focus

K-2 : Intro to Measurements
3-5 : Intro to Perimeter

Summer Bridge Science Focus

K-2 : Intro to Light
3-5 : Brain Processes of Senses

Character Seed = Honesty
Movie = Finding Nemo
Week 8 : July 17 - 21
Theme = Blast into Space Exploration!
Safety Theme = Space Safety
Special Guest = Meteorologist
Spirit Day = Pajama Day
Summer Bridge Math Focus

K-2 : Intro to 3D Shapes
3-5 : Multiplying up to 4 Digits

Summer Bridge Science Focus

K-2 : Solids Liquids and Gases
3-5 : Human Body Systems

Character Seed = Gratitude
Movie = WALL-E



Week 9 : July 24 - 28

Theme = LEAP's Got Talent
Special Guest = KONA ICE

Spirit Day = 80's Day
Summer Bridge Math Focus

K-2 : Intro to Subtraction
3-5 : Intro to Decimals

Summer Bridge Science Focus

K-2 : Simple Machines
3-5 : Natural Disasters


Character Seed = Leadership
Movie = Mr. Magorium's Wonder Emporium
Community Guest Readers
Special Guests & On-Site Field Trip Experiences
Water Day Activities
Where is LEAP Summer Camp held?

Summer Camp will be held at our new LEAP facility located at 110 Waterford Court in Rincon, GA
What are the Dates of Summer Camp? Will camp be closed any days?
Summer Camp is May 30 - July 28
We will be closed Monday, July 3 and Tuesday, July 4 in observance of the July 4th Holiday
What are the times for Summer Camp?
Summer Camp programming operates from 9am - 4pm daily.
Drop-Off is 7:00am-8:50am. Our camping program begins at 9am and staff are engaged in groups and lessons during this time.
Pick-Up is 4:00pm-6:30pm
If you need to drop-off or pick-up outside of these hours please notify LEAP Staff the day prior.
What health precautions is LEAP taking to ensure my child is safe while at camp?

Your child's health and safety is always a priority for us. LEAP will sanitize all materials and areas used by students in the facility regularly throughout the day.
We will also be sure to practice frequent handwashing and social distancing.
How do I register for LEAP Summer Camp?
You can register for Summer Camp by visiting our website www.leapydp.com and clicking on the red 'Registration' tab at the top of the page that says 'Summer Camp'.
Then Click the green enrollment button, fill out the form, and submit your request!
Once it has been approved you will receive an email to create your Kangarootime account.
What is Kangarootime?
Kangarootime is our childcare management system. See daily posts and updates, message us with any questions, receive a push notification when your child is checked-in, request check-out, and pay your weekly tuition all right from your phone! You will need to download the Kangarootime App on your phone.
Do I have to pay a registration fee for each of my children?
Yes, a registration fee is required to secure a space for each child attending LEAP Summer Camp.
Summer Camp registration fees are non-refundable!
What does my child need to bring with them everyday?

Your child needs to bring a water bottle, lunchbox, afternoon snack, and a book!
What will my child do everyday at LEAP Summer Camp?
Each day students will rotate through stations of STEM activities, Creative Arts, Organized Recreation and Free Play.
Activities and Lessons will be centered around exciting Weekly Themes
What is the dress code for LEAP Summer Camp?
Students will be active throughout the day. We encourage them to wear comfortable clothes for summer camp
Students are required to wear tennis shoes or shoes with a back strap for their safety
No Flip Flops are allowed!
Are electronic devices allowed?
Electronic devices are allowed but students will not be able to play on them until after 4:00pm.
LEAP is not responsible for lost, stolen, or damaged personal belongings.
When is my weekly tuition due?
Payments are due every Friday prior to the week of service regardless of attendance.
How do you make a payment?
You make all payments through our Kangarootime app. You can sign up for automatic draft or just login to the app on fridays to make your payments! A $10 late fee will be charged the following Monday if tuition is not paid.